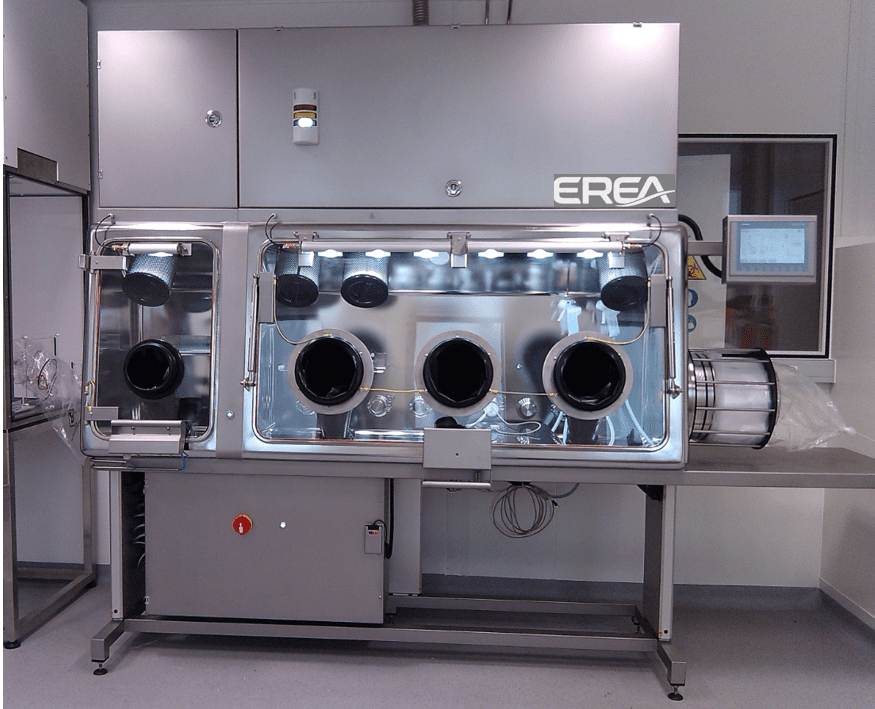 EREA has been developing innovative solutions in the field of sealing and controlling the cleanliness of work stations for 30 years. Our company manufactures sterile isolators which are designed to protect both processes and operators in the pharmaceutical industry.
Our products comply with current standards and GMP guidelines.
EREA sterile isolators
A sterile isolator is a bacteriologically confined and airtight work and manipulation space used during aseptic distributions and toxic processes in the pharmaceutical and medical sector. Equipped with a perfectly sterile main isolator, it can therefore handle, package or store medicinal products. Equipped with gloves and cuffs which extend up to the shoulders, the isolator is also equipped with transfer systems to transit the products and eliminate the waste in complete safety and in compliance with the desired aseptic conditions.
Containment is therefore respected at each stage of the process and contamination is controlled. EREA guarantees a high level of sterility and safety when handling toxic or CMR products, sterile products, infectious substances and elements requiring appropriate containment. Long-lasting sterility for your pharmaceutical products is guaranteed through the use of certified sterile isolators.
What are the technical characteristics of EREA's sterile isolators?
A sterile isolator is a piece of equipment entirely made (box or main chamber, airlock or transfer chamber, piping, ventilation, frame) using a highly radiated stainless steel sheet (inner radius of 30mm), brushed on the outside and having a polished mirror aspect inside. The sheet metal is welded under an Argon atmosphere, with the welds subsequently being sanded and repolished. Glove rings installed on a laminated safety glass (removable) display placed on the front face of the isolator ensure that operators have perfect visibility and accessibility.
Here are the main features and applications of the EREA Sterile Isolator:
Features:
Class A (Iso 5): NF, EN, ISO 14644-1;
Materials: 100% 316 L stainless steel;
Roughness: 1.2µm externally and 0.8µm internally;
Sealing class 1 or 2;
Overpressure or mixed operation;
Dynamic containment;
Static containment;
Controllable and configurable internal environment: Operators can configure and control the temperature, humidity and pressure levels inside the unit. They can also adjust lighting and ventilation settings;
Safety lock with inflatable seals;
Gas spring door handle;
HMI;
Double HEPA Filtration: The air treatment and filtration system of the pharmaceutical isolator is effective in preventing contaminants from entering the interior of the device. This system consists of an air intake filter that removes particles from incoming air, as well as a HEPA filter that traps bacteria and other microorganisms;
Flow: Laminar or turbulent;
Dimmable LED lighting;
100% EMERY socket;
Number of gloves: upon customer's request.
Isolator options:
Bio-decontamination: the integration of an automatic decontamination system with a sporicidal agent (H2O2) guarantees the decontamination of all internal surfaces, thus reinforcing the control of contamination risks and therefore the level of sterility assurance.
Aerobiocollector;
Particle counter;
Batch report;
Audit Trail;
It is entirely possible to accessorize a containment isolator depending on the type of processes implemented. EREA can integrate connectors, accessories, software, etc. within the isolator
Applications:
Preparation, manipulation and treatment of cytotoxic and cytostatic products;
Infectious substances;
Quality control for highly active compounds HPAPI (High-Potency Active Pharmaceutical Ingredients) with fine particle size;
Preparing and weighing powders in a laboratory or production unit;
Formulation and characterization of API and highly active pharmaceutical ingredients (HPAPI) for R&D laboratories;
Weighing and repackaging toxic powders;
Mixing, grinding, sieving and drying potentially dangerous products and active compounds;
All operations and manipulations for toxic or cytotoxic products of OEB (occupational exposure band) categories 4-5-6.
EREA, your expert partner
EREA offers innovative products, tailor-made solutions as well as efficient service and assistance. Our isolators meet the production requirements in a sterile environment by integrating innovation and technological know-how. Our equipment guarantees the maintenance of product containment, the prevention of contamination risks and the protection of personnel during all handling processes.
For more than 30 years, we have worked with the pharmaceutical industries and developed  professional partnerships with our customers to deliver tailor-made solutions adapted to the new realities of pharmaceutical laboratories. We offer a complete range of laminar flows, microbiological safety cabinets, weighing stations and transfer trolleys equipped with laminar flows. Our products are fully in compliance with the regulations in force and are manufactured in France.
To help provide you with tailor-made iso-technical solutions, EREA has a 2500 m2 workshop, an ultra-specialized team, aeraulic simulation and 3D visualization software at your service.
Get a free quote by contacting our experts who will get back to you as soon as possible.